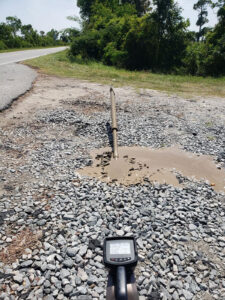 With a few techniques borrowed from oil diggers, Martin Cherrington may very well be the first contractor to bore under a river, and he did so without any electronic guidance. Cherrington and his crew did the unthinkable when they crossed the Pajaro River, drilling approximately 500 ft in one month. Jobs such as this paved the way for generations of HDD contractors to come. Fortunately, boring under a river is no longer considered "no man's land" and the introduction of electronic guidance systems like HDD locators as well as advancements in drilling equipment have made jobs like this more practical and efficient.
In July of this year, Sirman's Underground, out of Homerville, Georgia, was contracted to bore approximately 1800 ft across the Savannah River. Due to the reconstruction of the Houlihan Bridge in Port Wentworth, a new fiber line was required and going under the river was the best option.  Faron, of Sirman's Underground, chose to use a combination of the Ditch Witch JT40 and the Underground Magnetics Mag 9 locating system paired with the Echo 90 transmitter to tackle the project. With that, they were able to locate to depths of 65 ft, while also using the Underground Magnetics' "drill-to" function to track and guide the drill head from the receiver 90 ft out in front of the head.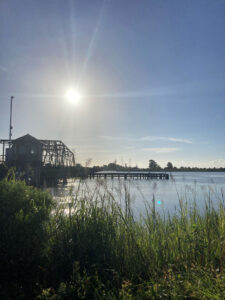 Coupled with the expertise of Sirman's crew, the Mag 9 locating system played a pivotal role in ensuring the accuracy and completion of this project. It enabled them to not only locate, but also adjust as needed to ensure a straight and efficient bore path. Trusting the capabilities of your equipment is one of the key components when considering taking on a project like this. While accuracy is a requirement, efficiency is what enables your business and the horizontal directional drilling industry as a whole, to grow.
With today's advancements, Sirman's drilled approximately 1800 ft and located to depths of 65 ft. The Savannah River crossing took roughly one week to drill and pull back a 2" steel pipe. We appreciate the opportunity to provide hard-working contractors like Sirman's Underground with state-of-the-art equipment and congratulate their crew on a job well done!
by Tyler Price, Marketing Director at Underground Magnetics
Job Details
Total length of bore: 1800 feet (1500 ft of water)
Product pulled back: 2" steel
Deepest depth: 60ft
Furthest distance out in front of drill to: 90ft
Drill: JT40
Locator: Mag 9
Transmitter: Echo 90
Company: Sirmans Underground
Contact: Faron Sirmans