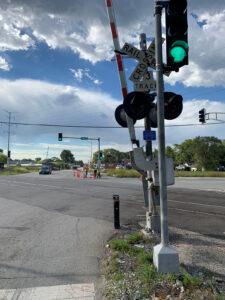 Sean Stanley
National Sales Director, Underground Magnetics
Railroad crossings have traditionally been a challenge for walkover HDD locators. Adding in traffic signals, a busy city intersection, and multiple buried utilities, you have a perfect storm of potential trouble. Always Underground Inc. of Joliet, Illinois recently reached out to Underground Magnetics for help with a bore that involved all these obstacles.
The job was a 250-foot-long shot, pulling back 4-inch rigid steel for a fiber installation in Riverdale on the south side of Chicago. The planned bore path would cross an intersection with heavy truck traffic, three sets of railroad tracks, buried petroleum and gas pipelines, as well as multiple traffic and rail signals. Previous attempts with other locators had to be called off after only 30 feet of drilling due to loss of signal from high interference. Underground Magnetics brought out their new Mag 9 locating system with the Echo 50XF transmitter that features 16 frequencies to battle the unique interference challenges of this job.
Starting the bore in K62 (0.6 kilohertz) in high power, the Always Underground crew was able to accurately cross both buried pipelines and all three sets of rails with no signal loss. The bore achieved a target depth of 20 feet under the main rail line while avoiding the signal scattering commonly associated with train tracks and other sources of passive interference. They were also able to cross the busy intersection with embedded rebar in the pavement using the bore-to feature of the locator. This enabled the operator to stand on the other side of the street without needing additional lane closures or additional traffic control.
Midway through the bore, interference from traffic signals required a frequency change to 19kHz. They were able to complete a downhole frequency change from the drill operator's seat and the bore continued with no further issues or loss of signal, allowing them to finish at the exit pit on target and at the correct depth.
"We appreciated Underground Magnetics coming out to help us with this job," stated David Paulin, VP of Always Underground. "Our existing locator was unable to get past the railroad tracks, and the added interference from the traffic and rail signals. The Mag 9 helped us complete a very difficult bore and the guys really like how easy the system is to use."
Always Underground prides themselves on being able to tackle some of the most difficult city utility installations in and around the Chicago area. With help from their new Mag 9 locator, railroad crossings will be one less obstacle to their continued success.